Meeting Lab Professional event venue in Toulouse
Contenu
Book the Meeting Lab in Toulouse
for your
Ready to welcome you safely, consult our sanitary measures
Lien
Learn more
Texte
Welcome home
Organise your business meetings
Leaving the Place du Capitole, you turn into the pretty Rue Saint Pantaléon.  You pass under the porch at n°5 and find yourself in a sunny and quiet courtyard, opposite a grand and typical Toulouse-style house and its 19 windows.
You are greeted by Cécile's warm smile.  Everything is ready and waiting.  Your logo is already on a sign at the entrance and your meeting room has been set up according to your instructions.  There's chilled water in the fridge and the pastries served for breakfast are still warm from the oven.  Sit down, have a coffee, you can relax for a while before the day hits off because from now on, your hosts are going to take care of every little detail.
When it's time to leave, your top director congratulates you on the particularly effective meeting.  Your colleagues adored the succulent lunch and would love to discover the secret of that delicious chocolate mousse.
As you cross the courtyard you think what a great day it was…..
Texte 2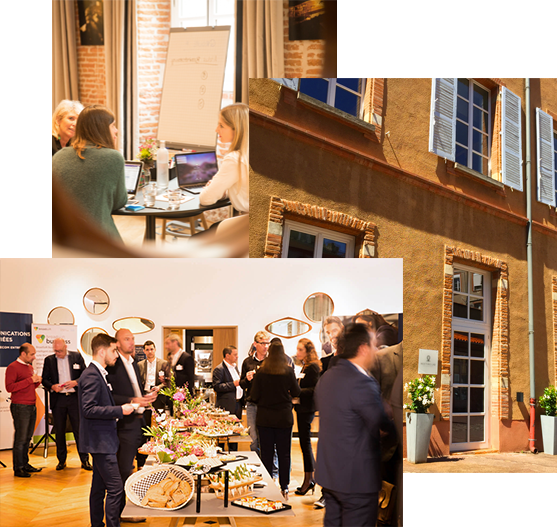 Little extras
At Meeting Lab
Your wish is our command!

All inclusive rates and services

Make yourself at home!

Cosy, airy & so welcoming

Respectful of others and the planet

On every floor High Tech

Home-made cuisine

So peaceful...yet in the heart of the city

Feel pampered
Texte col1 To carry out your company seminars, meetings, company evenings, show room, afterwork ... in Toulouse.
texte col2 The Meeting Lab: a place imagined for companies, and dedicated to corporate events